"

... Johnny Never gives authenticity to the music that he has studied, performed and loved for so many years, so much so that he is the spiritual son of many names both famous and long forgotten. - " - Jamey Riley - Jamey's House Of Music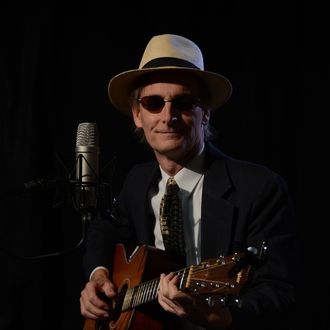 Live Performance Review
"Some artists adopt a persona to use on stage to promote their music, But John Carleton AKA Johnny Never, has crawled into the skin of acoustic blues greats from the Piedmont to the Delta, and gives authenticity to the music that he has studied, performed and loved for so many years - so much so, that he is the spiritual son of many names both famous and long forgotten. His concerts with Philadelphia blues harp man John Colgan-Davis are redolent of Carey and Lurie or Sonny and Brownie, complete with the engaging backstories. All the old classics are performed with an easy elan, and their originals have a familiar and timeless ring. Catch these contemporary masters live if you can, you'll be glad you did."
- Jamey Reilly, Jamey's House of Music
"John Carleton, (aka Johnny Never), is probably the most refreshing thing I've heard this year.  A superb guitarist with a knowledge of vintage blues, Johnny hit the mark with tune after tune.  From straight-ahead covers that capture the sound and feel of the original recordings to wildly reimagined covers that manage to stay well within the realm of vintage blues, I was thoroughly impressed.  What was perhaps even more impressive were the eight original tunes that made up the bulk of the album.  They, too, had that flair and sophistication that is normally associated with vintage blues."  "This one gets my highest recommendation.  This one reminded me, in many respects, of Leon Redbone."
  – Bill Wilson, Blue Reflections Magazine.   December 7, 2020
Read the review here:
http://chickenwilson2.blogspot.com/p/top-picks.html
"Johnny's latest offering shows him as one of the finer Delta style blues players around today.  If you love your acoustic blues, definitely one for you to check out!"  
- Steve Hoare,  The Blues Lounge, Bradley Stroke Radio,UK December 15, 2020