THE INTERNATIONAL BLUES CHALLENGE, JANUARY 16- 20, 2024

 Please make Pay Pal contributions for our trip to Memphis Here.  Thank you for your support!
THE INTERNATIONAL BLUES CHALLENGE 2024:
In August, John Colgan-Davis and I competed for and won an opportunity to compete in the International Blues Challenge, in Memphis. It happens this coming January. 
Winning a chance to compete in the International Blues Challenge, hosted each year by the Memphis based Blues Foundation, is quite an honor!   
"The International Blues Challenge represents the worldwide search for blues bands and solo/duo blues performers ready for the international stage, yet just needing that extra big break." The world's largest competition of blues musicians will take place on Beale Street, with over 20 clubs hosting hundreds of challengers from all around the globe. 
It runs from January 16 -20th 2024
More info on the Foundation and the IBC can be seen here: https://blues.org/
JOHN AND JOHN, will keep EVERYONE updated on our musical adventures as we traverse the five-day contest!  The first two days are the initial performance and quarter finals.  If we pass muster with the judges, we will move to the semi-finals on the third or fourth day, and were we to be fortunate enough, the finals at the historic Morpheum Theater in downtown Memphis on Saturday, January 20!   Wish us luck.   And PLEASE CONTRIBUTE  to one of the FUNDRAISING CONCERTS,  or contribute by making an  IBC DONATION HERE via PAYPAL,  Thank you!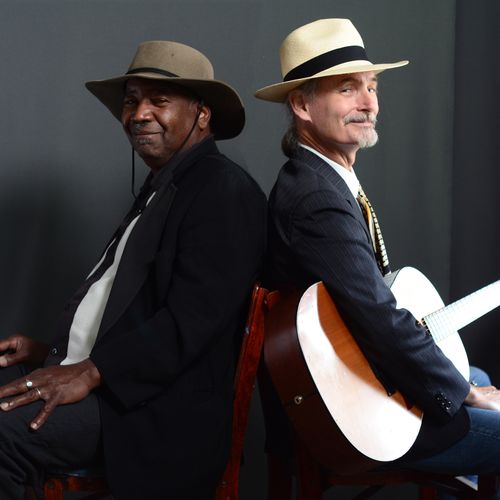 Please help us get to memphis. every little bit helps
Please make a contribution or plan on coming to one of the Official IBC Benefit Concerts! The benefit concerts are an IBC tradition since its founding in 1984! Stellar blues artists including two-time best album winner Roger Girke and Blues Hall of Famers "Slim and the Percolators" will be there to help support us! If THEY can do... so can you!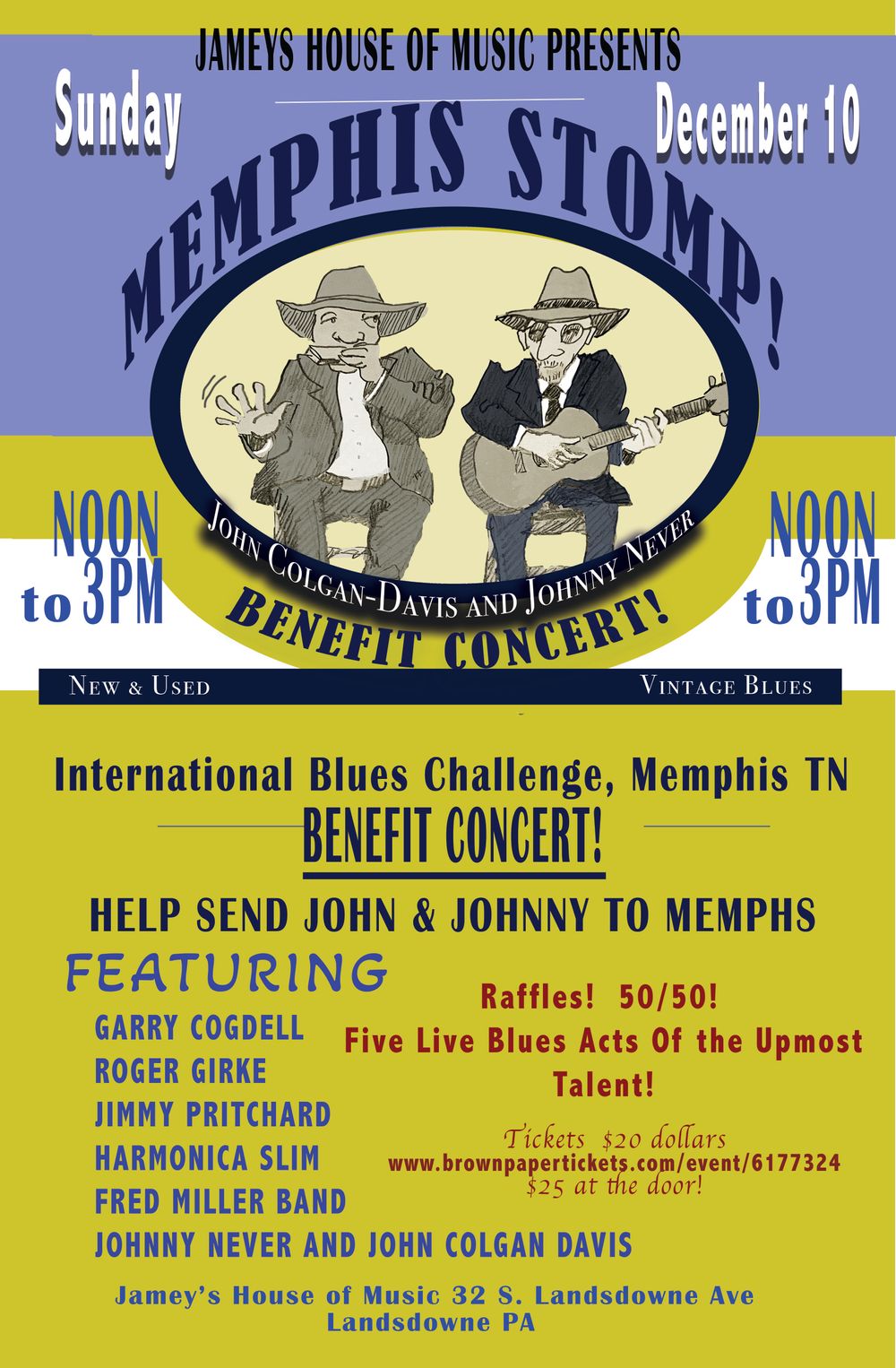 IBC FUNDRASIER CONCERT IN PA!
Memphis Stomp! HELP SEND THE JOHNS TO THE IBC!
The First Fundraiser is being held at Jamey's House of Music, in Landsdowne PA for our fans north of the DE/PA border. Jamey's s an incredible facility for taking in live music featuring a great stage, incredible sound system, full bar and restaurant.
Please come and help the Johns make it to Memphis to compete in the International Blues Challenge! A great, fun filled Sunday afternoon featuring six stellar Musical Acts, a 50/50 raffle and all kinds of great raffle items all for a good cause!
The Pennsylvania Benefit is Sunday, December 10, NOON to 3PM at the delightful, Jamey's House of Music, 32 South Landsdowne Ave. Landsdowne PA, 19050. www.jameyshouseofmusic.com.
TICKETS: 20 in advance, $25.00 at the door! Tickets only at Brown Paper Tickets!!! search Memphis Stomp or use the link below.
www.brownpapertickets.com/events/6177324
Raffle Items
50/50
T-SHIRTS
Concert Tickets
PRINTS OF PAINTINGS
BY J.R.C. DORCHESTER
(http://www.johndorchester.net)
YOU MAY HAVE TO TYPE THE ADDRESS INTO YOUR URL BAR TO SEE THE WEBSITE! (it's a regular http://site.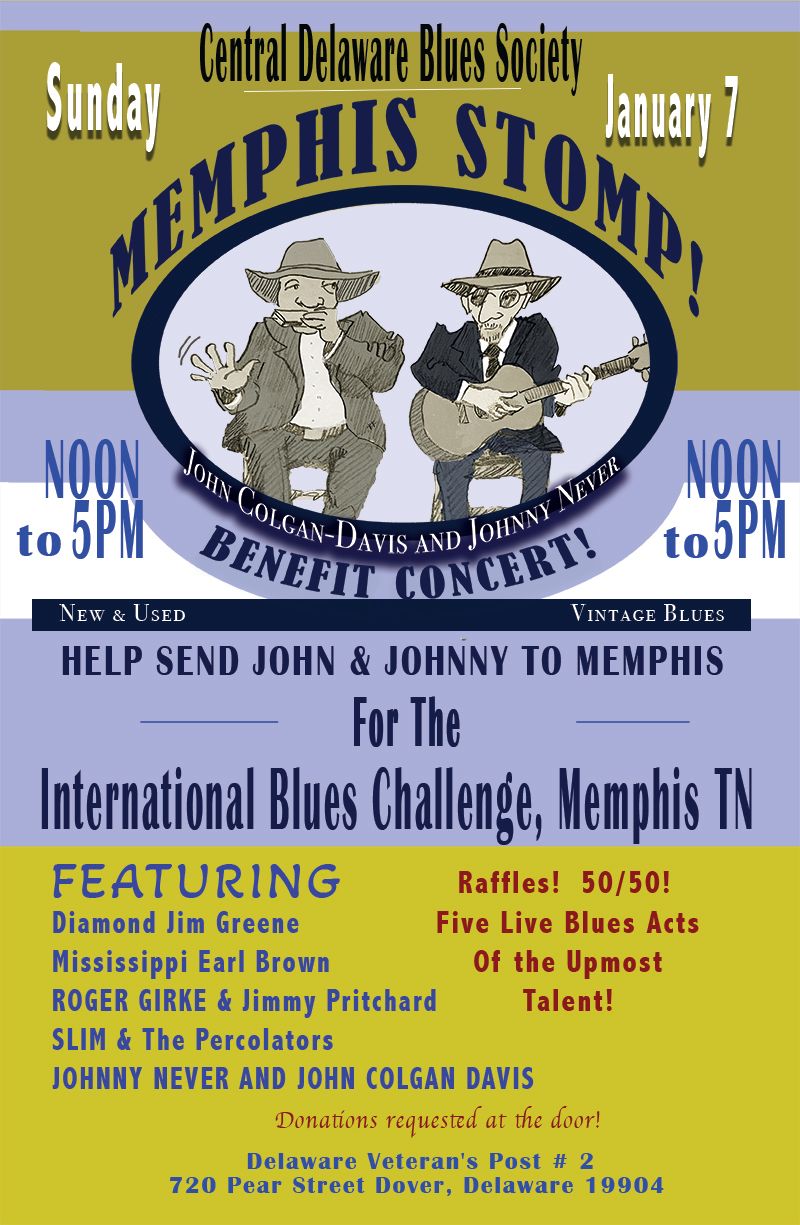 DELAWARE FUNDRAISER CONCERT
The Central Delaware Blues Society
Delaware Veterans Post #2
720 Pearl Street
Dover, DE 19904
Raffles 50/50
Stellar line up of acts!